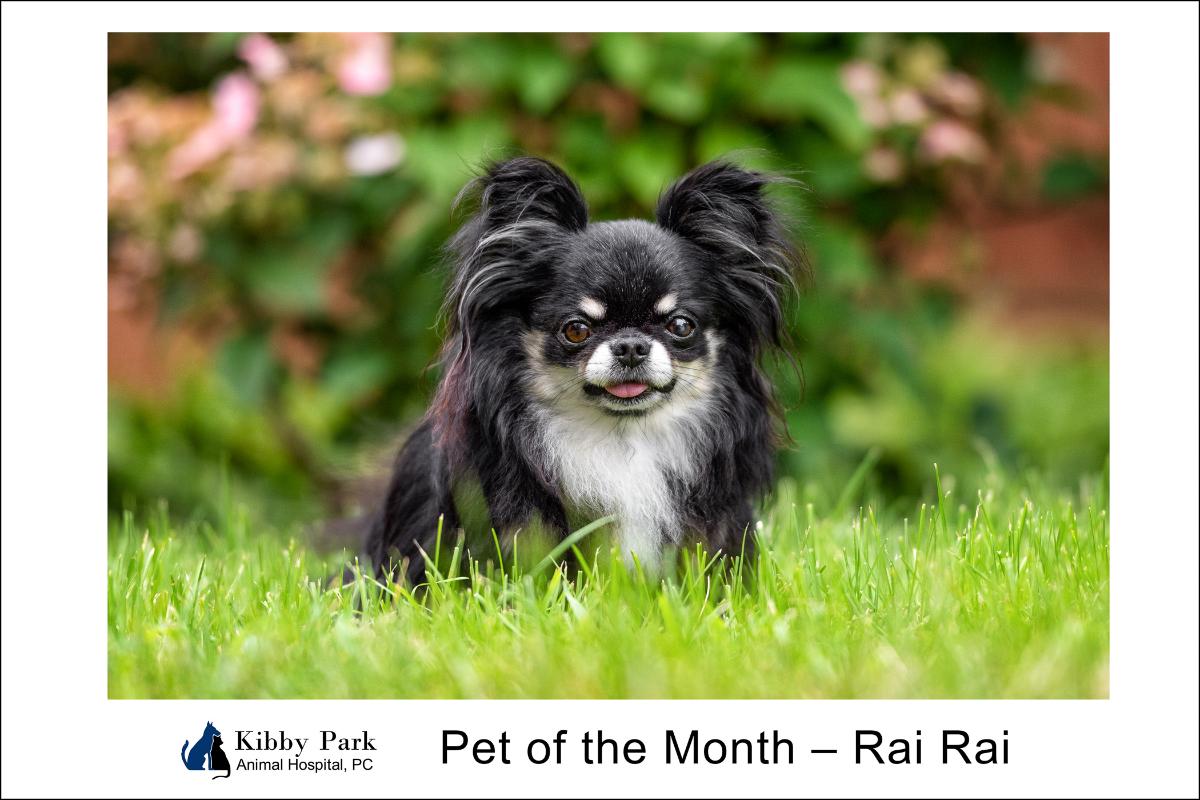 December 2021 – Raiden "Rai Rai" Jones
Rai Rai was adopted by Suzanne in June of 2020. This was a process that Suzanne had pondered for months, and she finally decided that she was ready for a canine companion. He and Suzanne immediately bonded and he became a permanent resident in her household.
Rai Rai is a Chihuahua; he has very few health issues but weight gain is a problem that can plague this breed. Suzanne is very careful about Rai Rai's weight, and even though she has taken him to training classes and has allowed treats, she balances the amount with adjusting his meals on training days. Rai Rai lives his very best life with Suzanne, and he is her constant companion. We are always excited to see Rai Rai and Suzanne when they come to visit us – Suzanne has done an amazing job integrating him into her household and he is a lucky boy!
When acquiring a dog or cat, it is a great idea to plan out your strategy. Will you adopt a pet from a shelter or rescue, or will you purchase a puppy/kitten from a breeder? We are here to help you to determine the best options for you, including a decision on particular breeds based on their characteristics meshing with your lifestyle. A Siberian Husky for someone who works long days and does not want to walk/exercise a dog = not a good match. However, there are other breeds/varieties of dogs which may be perfect for this type of pet owner. In addition, we have recommendations for local dog walkers/pet sitters for you. Please let us know if you have questions and are considering adding a new canine or feline to your family.
Congratulations, Rai Rai, on being our December KPAH Pet of the Month, and for finding a special person to care for you beyond measure!
---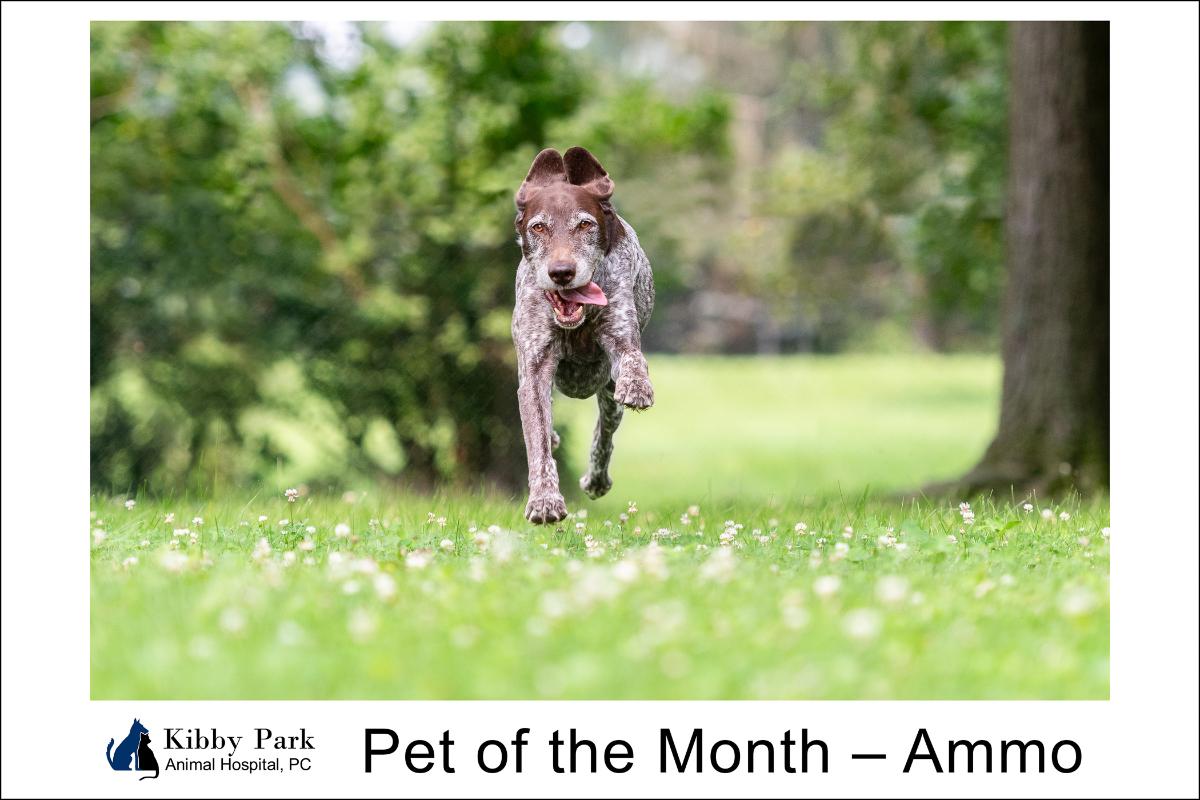 November 2021 – Ammo Papiersky
Ammo is a nine year old German Shorthaired Pointer.  He was adopted by Ryan in 2017.  Ammo was trained as a hunting dog previously and his busy personality and temperament are definitely perfect for hunting and exploring.
According to the German Shorthaired Pointer breed characteristics guide, they are notorious for being high-energy and very trainable.  They also get a 9 out of 10 for bonding level to their families.  What does this mean?  It means that being left alone for lengths of time can create a host of issues, including separation anxiety and destructive behaviors.
Dog breeds that were developed for hunting are generally best for high energy families.  Daily walking, doing "nosework" in which dogs are trained to harness their innate sense of smell to locate the source of a scent, and keeping the environment stable and entertaining to a dog who can literally run miles a day – all of these things are great ideas for dogs like Ammo.
Please let us know if you need referrals for trainers for basic dog manners, agility, or nosework.  We are happy to assist!  Your dog will thank you for the fun classes and your bond with your dog will be stronger than ever. 
---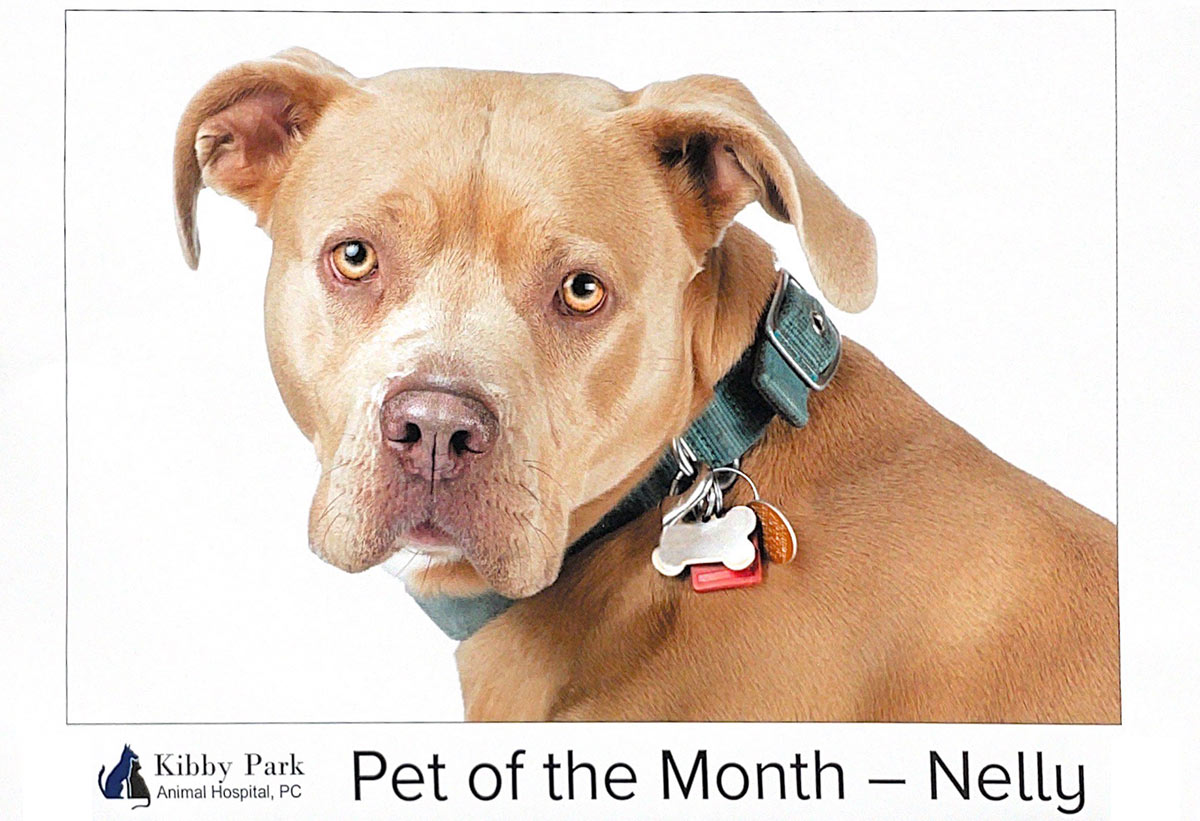 October 2021 – Nelly Davies
Nelly was adopted in 2017 from the Jackson County Animal Shelter by the Davies family. She was about four months of age and her medical/personal history was not known by the shelter. Rick and Deb and their daughter Betsy decided to take a chance and integrate her into their household with other resident dogs, cats, and a macaw (who is quite a character).
Slow introduction, respect for the boundaries of other resident pets, and lots of love allowed Nelly to be successfully introduced to the family. She eased into the household and has become a cherished family member. She was a shy and sweet puppy and the family recognized that she needed to be encouraged to grow and develop on her own terms, without being flooded with new people and situations which may lead to increased anxiety.
Shelter pets are gifts that keep on giving in ideal cases. They may come to us with underlying medical issues, separation anxiety, and a need for more emotional and financial investment initially. Most are experiencing some type of anxiety and this generally involves creating a secure and safe environment – crate training should continue for dogs with the crate in a restful and quiet area. Cats should have their own room initially with easy access to food, water, and litter boxes; a gradual introduction to the household will set kitties up for success.
We are here to help. Please come to us with any questions or concerns prior to adopting a shelter or rescue pet. Feel free to contact us when your new furry family member joins your household for tips on introduction or for assistance with any behavior concerns such as anxiety or resource guarding. If we cannot address within our walls, we will refer you to Great Lakes Veterinary Behavior Consultants and Dr. Krause will assist – she operates out of our training building and is an expert in preserving the human-animal bond. We also have a host of other resources for you – we are here to help you develop the best relationship with your new rescue family member!
---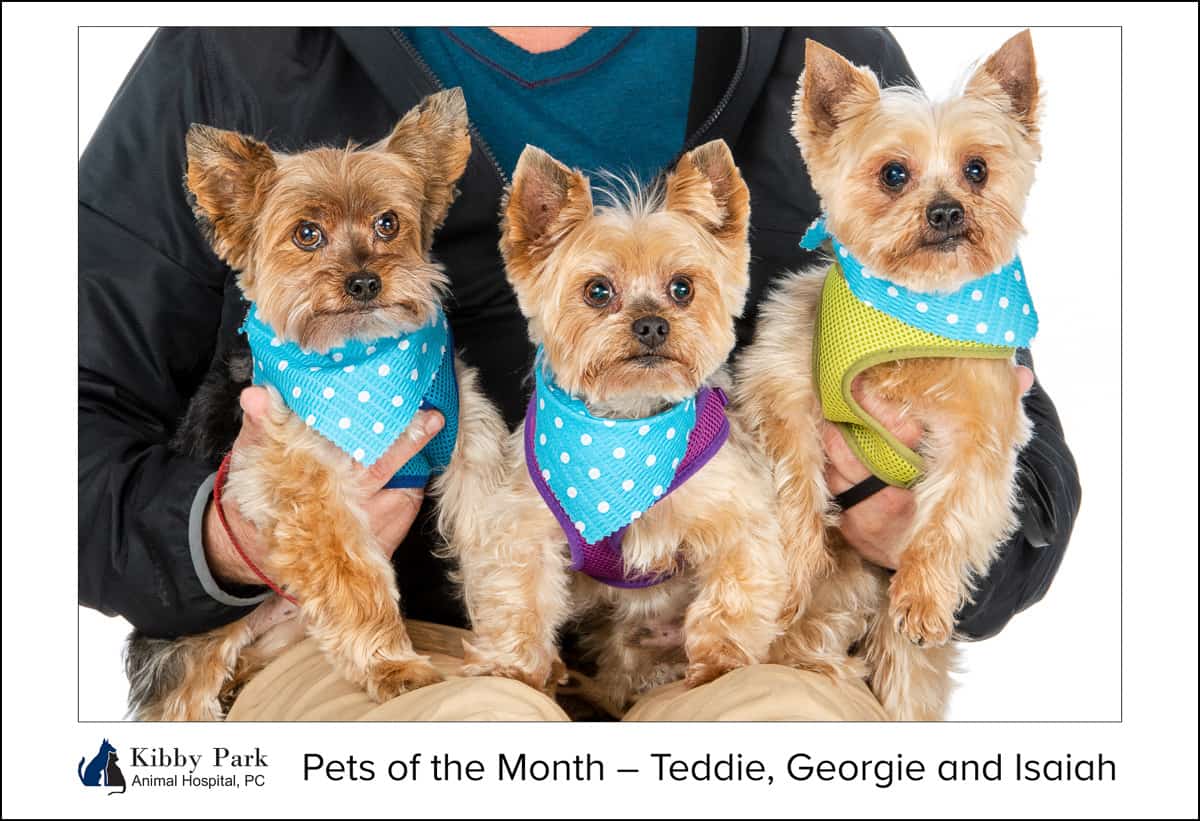 March 2020 – Georgie, Isaiah, and Teddie Ladd
A trio of Yorkshire Terriers have been chosen as our Pets of the Month for March, 2020!
From left to right are Georgie, Isaiah, and Teddie Ladd; Teddie is the elder member of the trio and is the "team leader" of vigilance in the household. Gregg and Dennis are accustomed to being at the beck and call of the terriers. Regular walks and lots of cuddling and lap time keep all of the dogs happy, although Teddie is known to beg for treats on occasion.
Multi-dog households are wonderful, but can present some unique challenges. One dog has a bond with the human family members. A second dog will develop a bond with the resident dog but will require as much or more attention from the family as the first dog….and so on as additional dogs join the household. Another common issue is potty training puppies when there are adult dogs in the house. Puppies tend to follow the adult dog(s) around in the yard but remain unfocused when it comes to learning how to use the potty area outside. Finally, dog-dog relationships can be complicated. Treats, food, toys, humans, space…all are considered high resources that may motivate interdog aggression and other complications concerning canine behavior in the household.
On the positive side – if dogs are treated as individuals, each requiring attention, exercise, and training – the success stories far outnumber the stories where multidog households do not work out for families. Teddie, Isaiah, and Georgie have always had ample household space and attention on an individual basis. They eat out of their own dishes in designated areas. Exercise is important and walking the dogs separately is often preferred due to terriers being the "neighborhood watch" and vocalizing more when out together. Individual activities allow Gregg and Dennis to keep each dog focused on them as they walk and encounter other people and pets.
Congratulations to Teddie, Isaiah, and Georgie on being chosen as our March 2020 Pets of the Month!!!!
---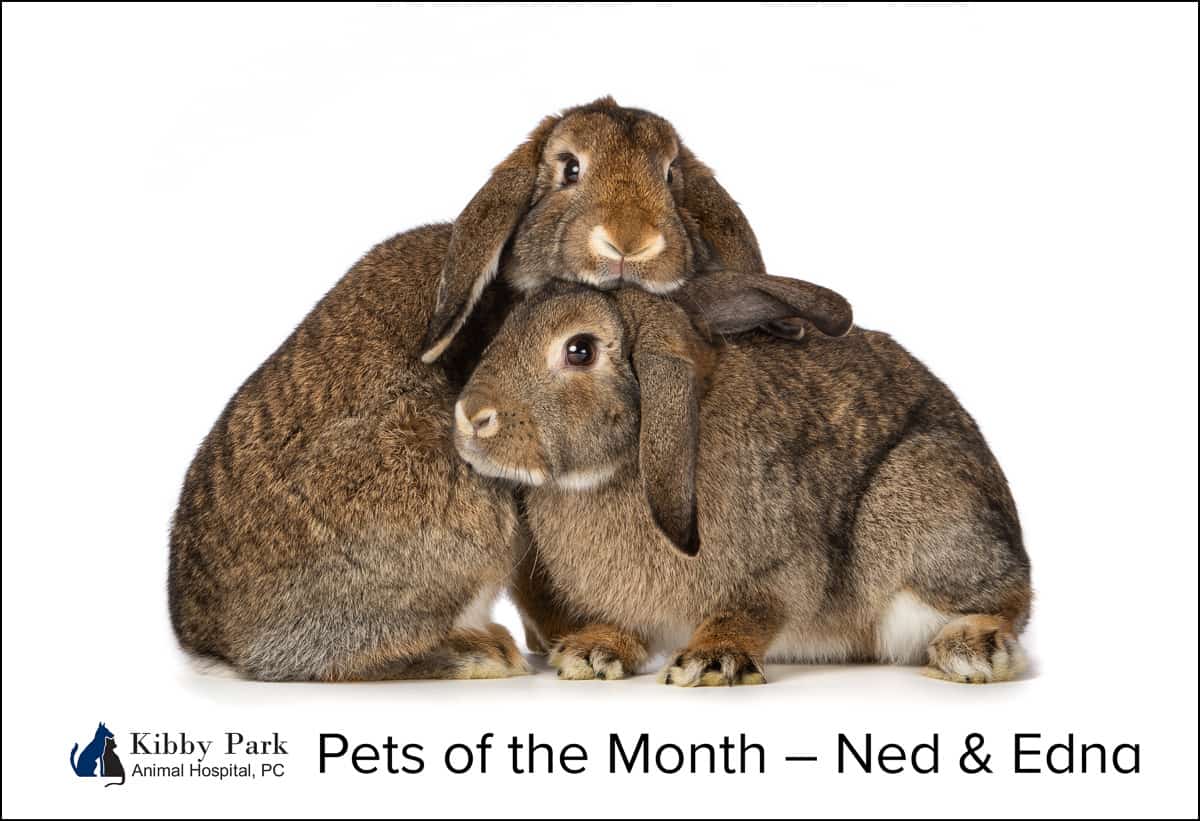 November 2019 – Ned and Edna Spaeth
Ned and Edna are house rabbits; they live indoors and reside with Dosia and her dog Lydia. They were sterilized and they live in happy harmony with no chance of baby bunnies!
Rabbits are hind gut fermenters, like horses. They have a cecum which allows them to break down grasses into energy. They need a high fiber diet of timothy hay and pellets as well as lots of water to prevent hairballs and to keep their digestive tract working normally. Ned and Edna use a litter area in the house; litter can be pelleted food or paper litter. Clay cat litter is discouraged as rabbits eat their night fecal material and digest it more thoroughly to obtain nutrition. Clay litter can cause a blockage in the intestines.
We recommend that rabbits be sterilized. Male rabbits can spray urine as a result of their hormones; females may develop uterine cancer if not spayed. We perform many rabbit surgeries and they have some unique anesthetic requirements in terms of medications and monitoring.
Rabbits make great pets for those who want an independent housemate. They do tend to chew on cords and this should be prevented by covering cords with cord protectors. Rabbits like to carry toys around in their mouths and they are very inquisitive. As their teeth grow throughout their lives, it is important that they have appropriate chew items as well as hay to keep their teeth worn properly.
Congratulations, Ned and Edna, on being our December Pets of the Month!!!
---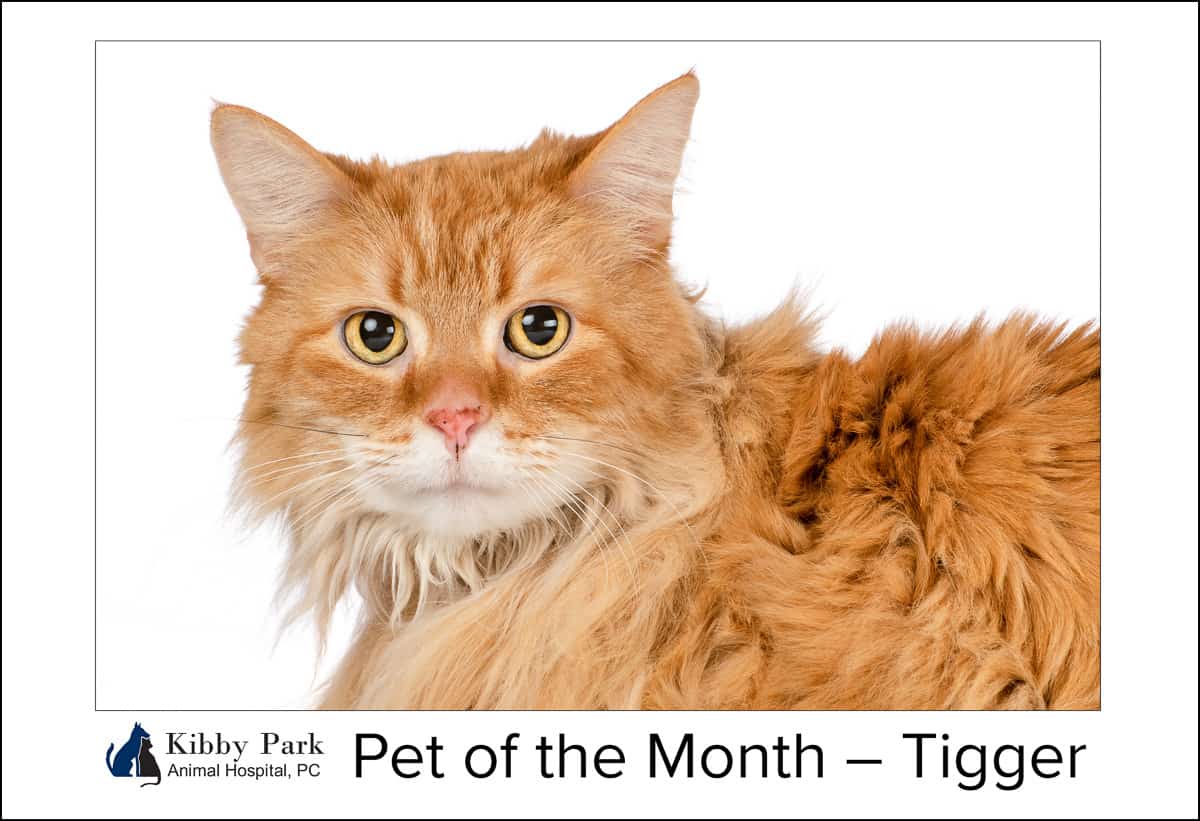 October 2019 – Tigger Kiessling
It seems only fitting that in this fall season, the season of pumpkin spice lattes and leaves morphing into the autumn hues, that we should honor a true Orange Tabby cat this month! Tigger has been a patient for twelve years; he has been a wonderful kitty for his exams and during his boarding stays at our hospital. He is an adored member of his family and he has a canine housemate at home.
Tigger has been on a special diet since 2015, when he had a urinary obstruction. Feline Lower Urinary Tract Disease (FLUTD) is an issue that plagues many cats, and cats may have painful urination, blood in the urine, urination outside of the litter box, and urinary stones/urinary obstruction which result in a blockage of the urinary tract. Male cats are at higher risk; typical patients are indoor cats, middle-aged, possibly overweight, who typically drink less water and eat dry food diets. All cats with FLUTD have some degree of chronic bladder inflammation which may resolve with dietary change. In addition, minimizing stress in the environment can be promoted by keeping felines in a calm household with many areas to climb and encouraging play times for cats to express normal predatory behavior. The rule of thumb for litter box numbers is "the number of resident cats plus one additional box", and cleaning the boxes multiple times daily is necessary.
In Tigger's case, he had a urethral obstruction. The obstruction was relieved and Tigger was placed on a diet to discourage him from forming urinary crystals and urinary stones in the future. The medication in the prescribed diet keeps the urine at a pH level where crystal formation is less likely to occur. We prefer cats to eat canned food as a rule, but due to other dietary sensitivities, Tigger eats the dry prescription diet. Cats require a diet high in moisture and high in protein, low in carbohydrates. Canned food is the best option and encourages hydration in our feline patients, as well as reducing the risk of obesity.
Thank you to Tigger and to his caring family member, Pat, and his canine friend, Abby, both of whom he allows to share his household and to partake in his daily cat adventures. Congratulations, Tigger, on being our October Pet of the Month!!
---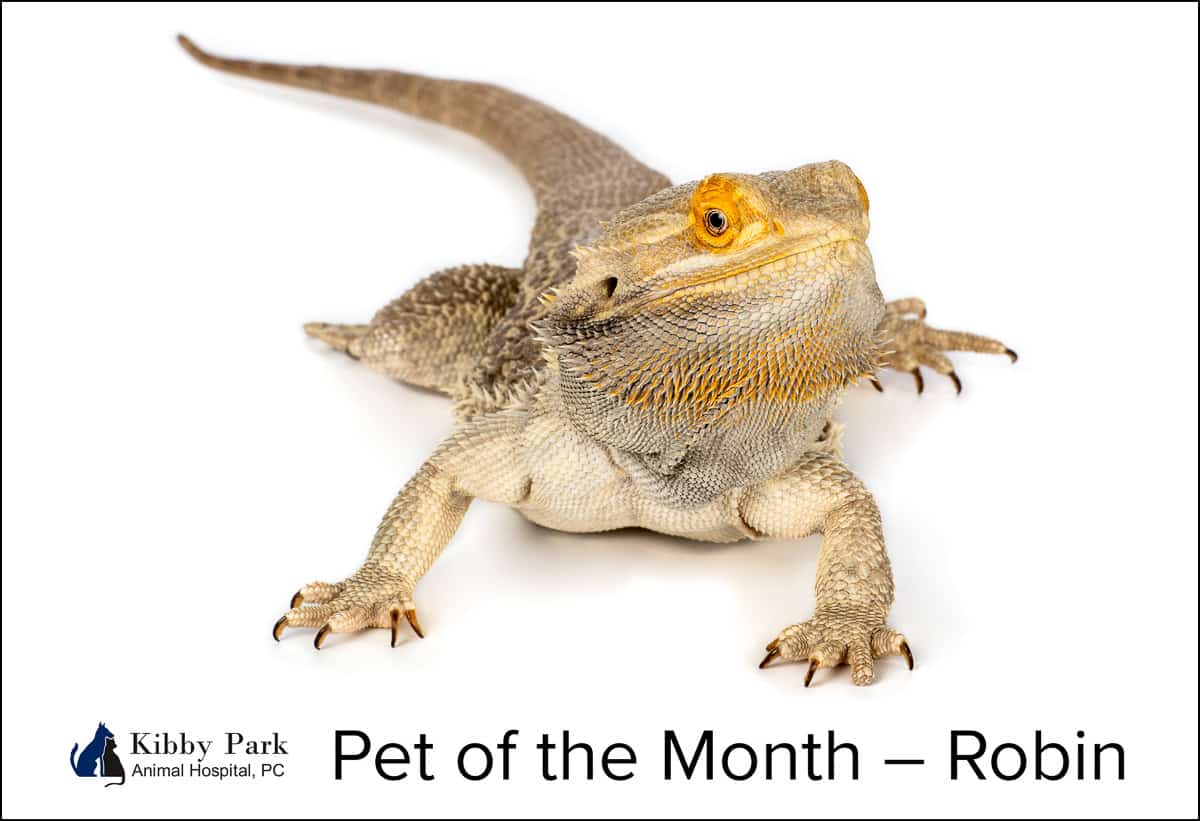 September 2019 – Robin Russ
Meet our September Pet of the Month – Robin! He is a Bearded Dragon, also known as a Beardie to those who are familiar with this species.
The Inland Bearded Dragon is generally considered one of the all-time best lizard pets. It is known for being alert, hardy and tame, and Bearded Dragon owners love watching their lizards, whether during a feeding frenzy while chasing crickets or simply interacting with each other. Bearded Dragons exhibit interesting behaviors, too, such as "arm waving," in which a female (and occasionally males) may lift a front leg in the air and "wave" it as a submissive gesture. The spiny "beard" from which the lizard gets its common name may also be extended, though it's uncommon for tame captives to do so; dragons typically do this when alarmed.
As Bearded Dragons are designed to live in a hot, arid environment, appropriate housing and feeding are critical to successfully caring for these reptiles in Michigan. Ultraviolet lighting with new bulbs every six months, supplemental heating, safe substrate that cannot cause a bowel obstruction (reptile "carpet" instead of sand), and food that is fed a diet high in calcium as well as supplements that can be sprinkled on their food – these things are necessary for growth and maintaining health.
The Russ family has excelled in creating the optimal habitat for their Bearded Dragons, Sissy and Robin. They are committed to these little creatures, and Mary has done research on how to keep them healthy. We examine them annually and we are always excited for their arrival at our hospital.
Congratulations, Robin, on being our September Pet of the Month!
---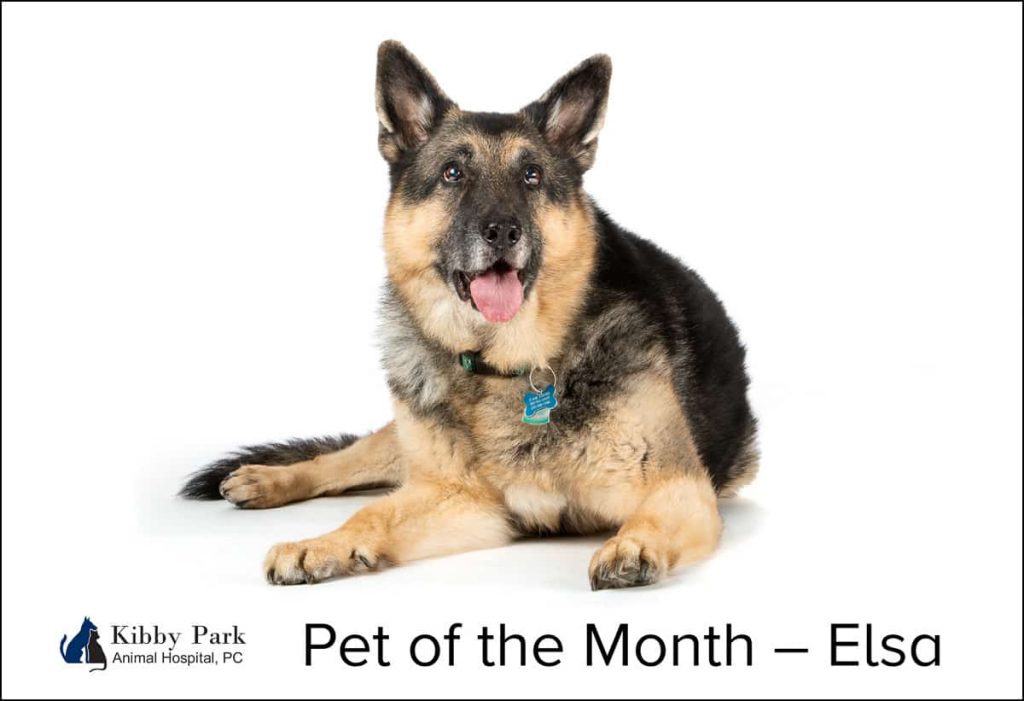 August 2019 – Elsa
As dogs and cats age, they need extra support and care.  Signs of osteoarthritis and other disorders of the muscles and joints are often not obvious as discomfort is expressed in many ways.  Increased sleep time, personality changes, lack of attention to family members, reduced appetite, increased thirst, panting at rest, difficulty rising or climbing onto furniture, fear of using stairs….all of these may indicate discomfort in our older pets.  Traditionally, we have used anti-inflammatory medication to treat musculoskeletal disease.  Now, we are trying to manage pain and discomfort using new medications and methods.
Multimodal drug therapy involves using different medications, which work together well in the body, to manage weakness, pain, swelling, and nerve dysfunction.  In addition, we utilize acupuncture as well as cold therapy laser treatments to help our patients live longer, happier, more fulfilling lives.
Elsa is a thirteen-year old German Shepherd.  Elsa's family, Karl and Sheila, are committed to keeping her active and healthy for as long as possible.  It is important to Elsa's physical and psychological well-being that she be able to play Frisbee, enjoy traveling, and go for walks on the beach.  In order to do these activities, Karl and Sheila made modifications to help Elsa to stay strong and to keep her mind sharp.  Her exercise is assisted by a special harness to aid in her mobility.  Her games are shorter and less strenuous but she enjoys them very much.  Her medication protocol is modified as needed to address any additional signs of weakness or discomfort.  Acupuncture is used to increase her energy level and manage her musculoskeletal issues.  Overall, Elsa is doing fantastic and she continues to thrive despite her advanced age.
Congratulations, Elsa, on being chosen as our August Pet of the Month!!
---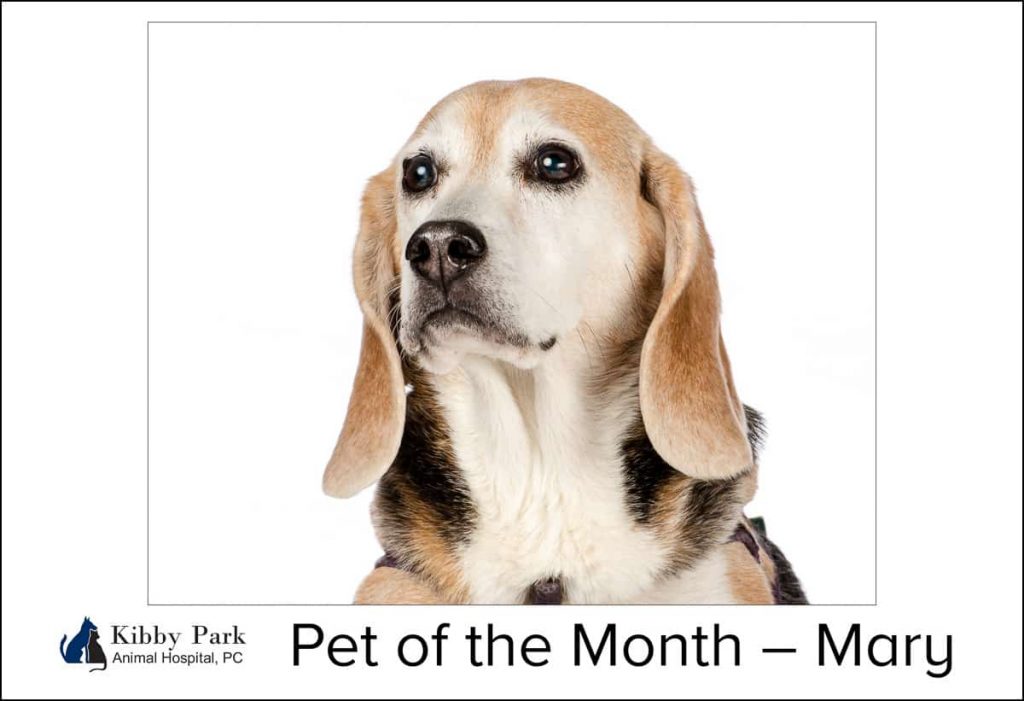 July 2019 – Mary Drechnowicz
Beagles are unique creatures, and Mary is no exception! She is a much-loved member of the Drechnowicz family. Mary has food allergies – she is on a prescription dog food and she adores hypoallergenic dog biscuits. In fact, those hypoallergenic dog biscuits are the key to the fond relationship between Dr. Owings and Mary.
Mary has a history of severe neck pain – so severe that she cannot function. She develops anxiety, pants, refuses to walk, backs up instead of walking forward, and generally feels horrible. She has recovered with the support of her family. The dog treats help the doctors and staff at Kibby Park Animal Hospital squelch Mary's anxiety and facilitate treatments. She is very anxious and she tends to like routines. Mary gets a biscuit each and every time that she allows us to place her on the table for her examination. She munches on the biscuits during all of her procedures and she also receives a biscuit when she is finished with her examination. After several visits, Mary looked forward to the treats and decided that the desire for food outweighed her anxiety about her medical visits. Mary has been conditioned to the positive reinforcements that she receives for allowing us to performs exams and other medical procedures.
It is CRITICAL that we work to strengthen our relationships with our patients. We rely on our amazing clients to assist with the examinations and procedures that the patients receive while in the exam room. Many of our clients have actively participated in exams – holding a cup full of whipped cream or peanut butter, helping with calming the patient, providing a hand when we need assistance stabilizing a pet on the table – and this is often the difference between total cooperation and total chaos. Pets love their families. They enjoy having family members present for their examinations and they feel more secure when they are able to have a family member pet them, give them treats, use positive reinforcement such as promises for a car ride as motivators, or simply lift the pet down after the exam onto a waiting lap. We feel incredibly fortunate to have wonderful clients, like the Drechnowicz family, to make our hospital as low stress as possible for our patients.
Congratulations, Mary, on being chosen as our Pet of the Month!!
---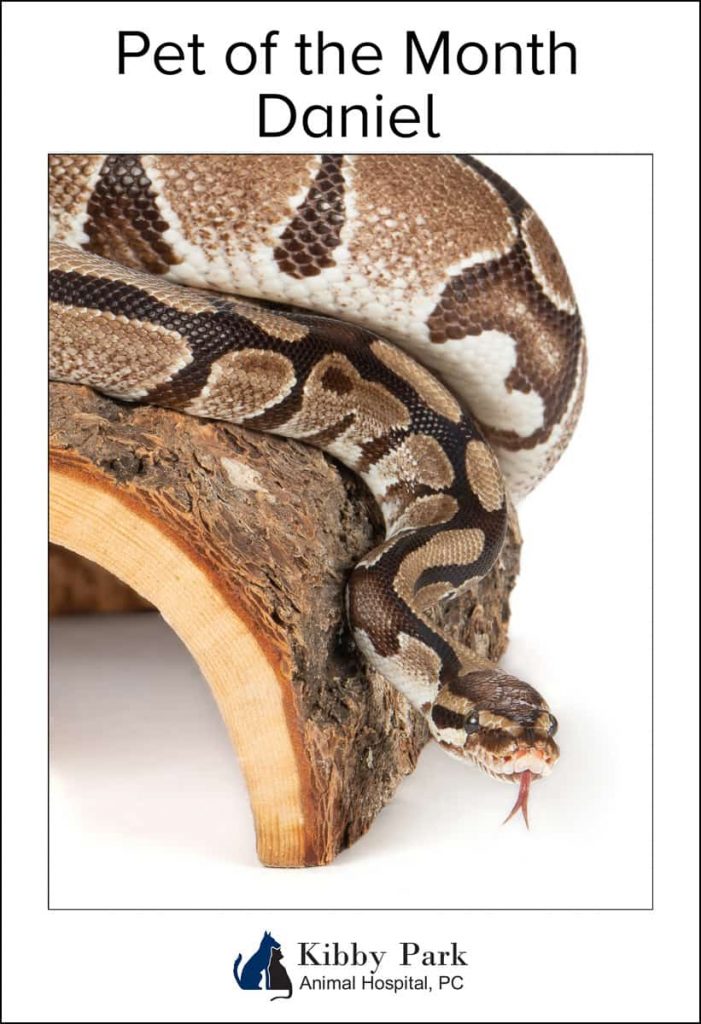 June 2019 – Daniel Dauberman
At Kibby Park, we see cats, dogs, rabbits, and other pets…like reptiles! Dr. Owings has two adopted Leopard Geckos at home, Rose (age 13) and Maui (age 15). Rose had two previous homes, and Maui was originally a classroom pet. Our featured Pet of the Month for June is Daniel, a long-time patient of Kibby Park and a special Ball Python. Daniel will celebrate his thirteenth birthday this month!
Reptiles can be great companions. Some species can be challenging to care for in Michigan – their environment should generally be around 80-90 degrees Fahrenheit and they need UV lighting (sunlight) to maintain health. Fortunately, we can design indoor habitats to maintain health in our reptile friends. Most reptiles require vitamin and mineral supplements and their diets vary – some eat protein sources only and others require fruits and vegetables and some occasional pelleted food for proper nutrition.
Daniel visits our hospital on annual basis for a physical examination, and we discuss his eating habits and his health status. Daniel, like most Ball Pythons, stops eating for several months in the winter. We monitor his weight and his behavior; when the day length increases, Daniel resumes his normal food intake and he lets his owner, Dieter, know when he is ready for a meal.
Daniel sheds his skin several times during the year. As a juvenile, he shed his skin more frequently as he was growing. Sometimes Dieter will soak Daniel in a shallow warm water bath to keep him hydrated and to assist with shedding his skin properly. Daniel receives excellent care at home and he is one of three snakes residing with Dieter.
Congratulations to Daniel on being chosen as our Kibby Park Animal Hospital Pet of the Month!!
---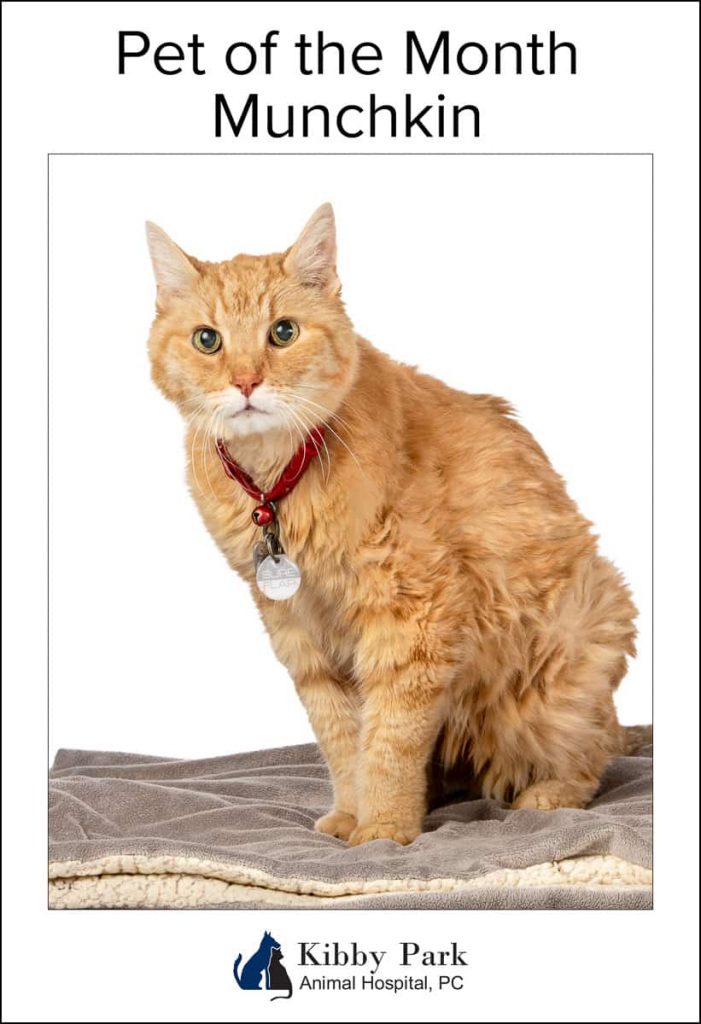 May 2019 – Munchkin Fojtasek
Munchkin is a wonderful senior kitty who is a true "people" cat! He is a social cat and he loves spending time with his family. He is a caregiver; his housemate kitty Emma passed away over a year ago from cancer and he always gave her comfort during her exams. He would finish his appointment and would hop up on to the chair then join her on the table to offer her companionship and support.
Senior cats often develop osteoarthritis, hyperthyroidism, heart disease, and kidney disease. Munchkin has experienced all four conditions, but with preventive care and monitoring, he has lived a fantastic life and is now twenty years of age! He eats primarily canned food with a little dry to maintain a healthy body weight and to encourage hydration. Dr. Owings administers acupuncture treatments regularly and Munchkin receives laser treatments for his osteoarthritis. His life is enhanced by his daily medications, his housemate kitties, and his amazing family who dote on him every single day.
It takes a village to manage senior pets. Munchkin's devoted family, our veterinarians and our veterinary technicians, our Kibby Park staff members, Munchkin's cat sitters, and Dr. Beal from Michigan State University Veterinary Medical Center and Dr. Steve Bailey from Exclusively Cats Veterinary Hospital – all have been committed to the belief that Munchkin's life should be the very best life that a cat could experience. At twenty years of age, Munchkin has seen the world change in terms of his medical care. Twenty years ago, there were few if any medications or treatments for osteoarthritis in cats. Radioactive Iodine Treatment was a new procedure to treat hyperthyroidism in 1998. Dr. Owings was graduating from MSU College of Veterinary Medicine around his birthday in June of 1998. Munchkin has benefited in many ways from the evolution of pain management and innovative treatments for feline diseases and he is beyond grateful. We have all learned a lesson from Munchkin's positivity and his zest for life and for love – happiness is not a goal, it is a by-product of a life well lived. And he has lived his life very well. *Photo by Tailwagger Photography