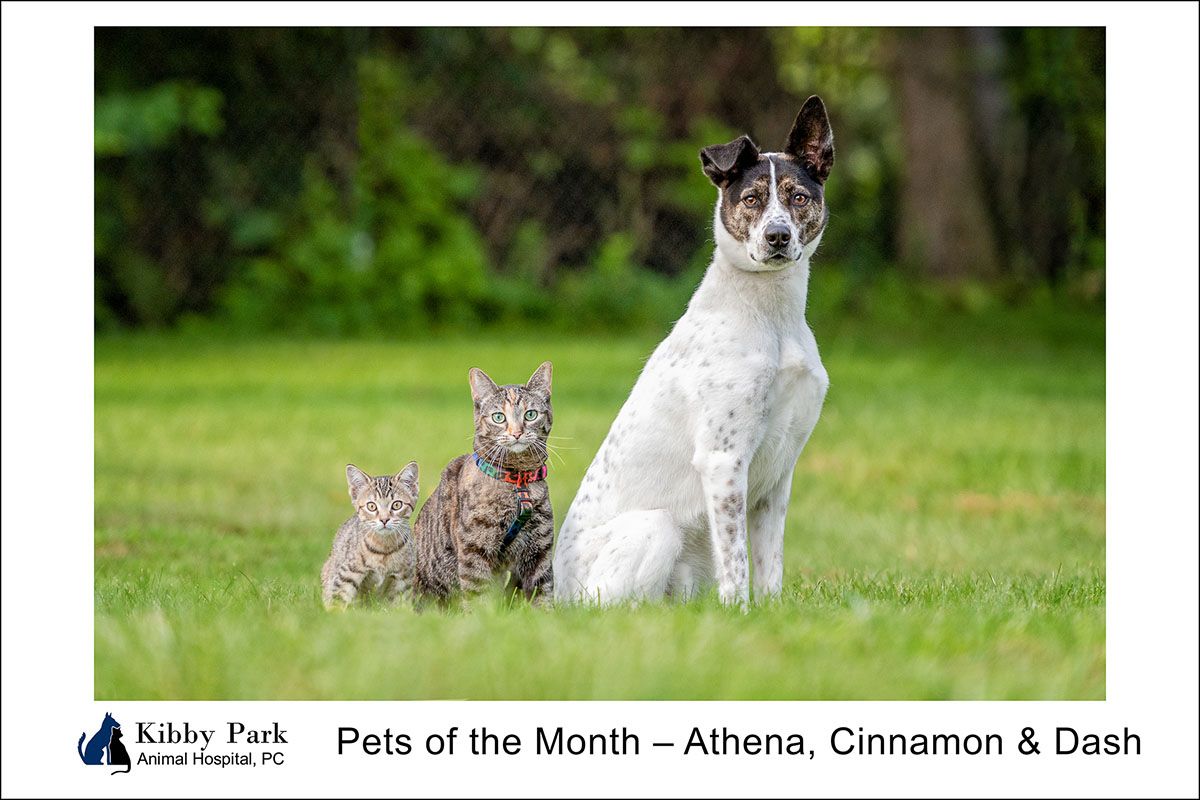 July 2022 – Athena, Cinnamon, and Dash Studley
Who has a busy Border Collie mix with two kitty sisters to keep him occupied? The Studley family! Dash is four years old, Cinnamon is five years old, and Athena is one year old – together they create quite the pack at their home.
Dash is an active pooch and needs a lot of activity in his life to keep him happy. His cat sisters also have their own needs for environmental enrichment. For Dash, outdoor play and indoor toys like slow feeders (Kibble Nibble, Kong toys, special bowls) and interactive toys such as a Manners Minder can be very helpful to keep Dash occupied and happy. For Cinnamon and Athena, cat towers to encourage climbing, food puzzles, hiding food and treats, and Da Bird and other indoor toys can be game changers to keep the girls busy and to encourage hunting and predatory activity during play and feeding.
Multi-pet households pose some challenges. Finding the right balance of play and activities for all residents and providing individual attention and training are all essential for dog and cat families. Sherril and Kevin have worked hard to establish some great routines for all of their pets.
Congratulations to Athena, Cinnamon, and Dash on being chosen as our July Pets of the Month!
---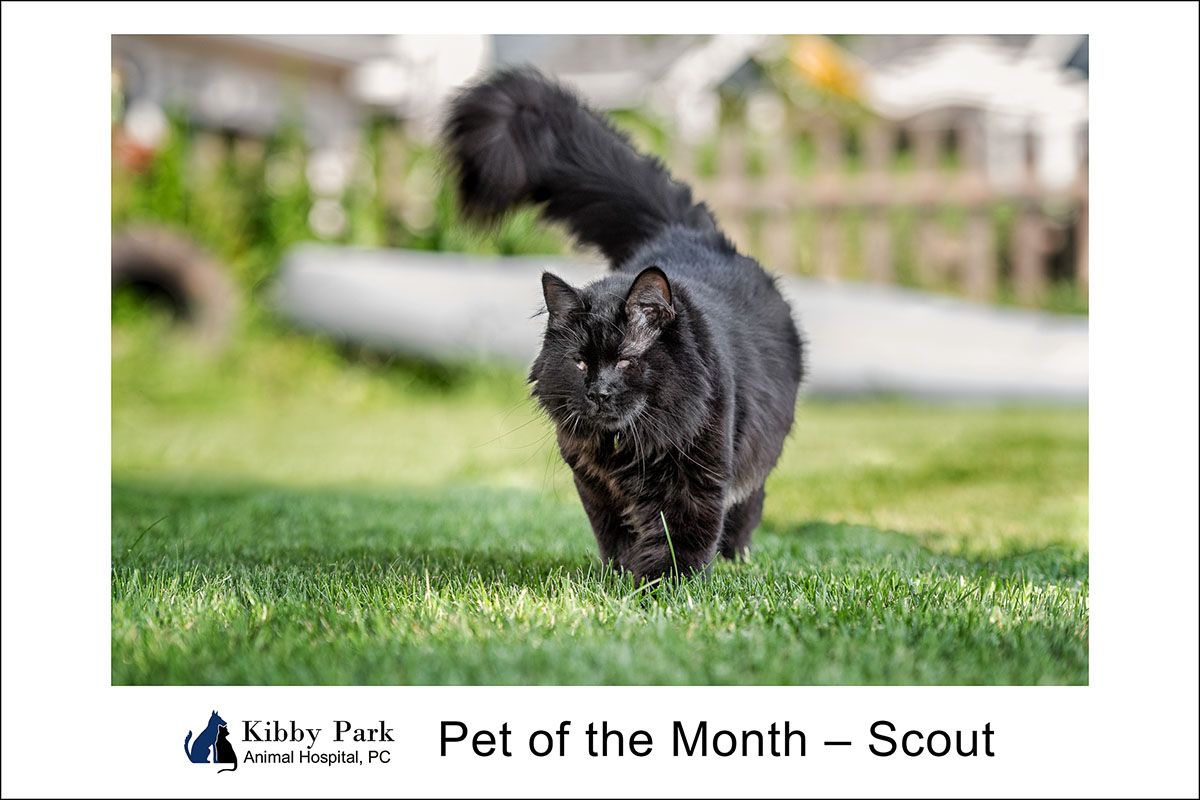 May 2022 – Scout Rogers
Scout was born in the late summer of 2019. He was discovered lying in the road and weighed 9.5 ounces; he had a severe upper respiratory infection and his eyes were severely affected. Scout was rescued by Rylee, and she was very committed to giving him the best opportunity for survival and healing.
Although Scout has damage to his eyes due to the early viral and bacterial infections, as well as epilepsy, he has grown into a 14 pound happy cat! He takes medication daily to prevent seizures and is doing great. Scout has a safe environment to explore and he is living his best life. He is a miracle kitty and he is fortunate that Rylee rescued him nearly three years ago…and she feels pretty lucky to have found this special guy as well.
---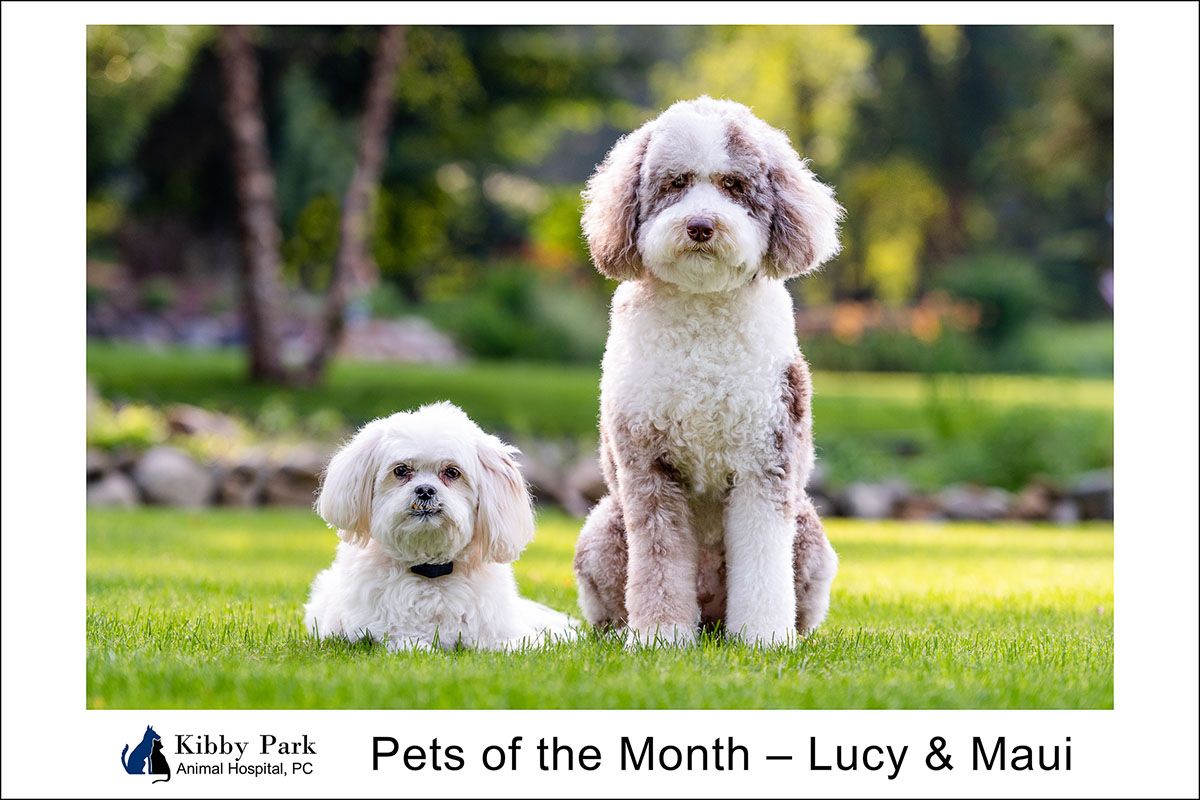 March 2022 – Maui and Lucy Richmond
Maui is an Australian Shepherd/Poodle and he lives with Lucy, a Pekingese mix, with the Richmond family. This pair of pooches is much adored by their family and they enjoy living at the lake.
Maui and Lucy are looking forward to the summer. And with summer comes mosquitoes….and with mosquito bites comes heartworm infection.
Heartworms are parasites spread from dog to dog by mosquitoes. The immature heartworms then reside in the heart, causing a host of problems. Dogs are tested annually for heartworm disease and they should receive prevention on a regular monthly schedule. This prevents immature heartworms from growing into adults and then reproducing – causing damage to the heart and liver. The heartworm prevention also removes intestinal parasites such as roundworms, hookworms, and whipworms which are spread in the environment. Dogs are infected by coming into direct contact with fecal material, or licking their paws or contaminated areas in the environment. An annual fecal specimen is analyzed to help us to determine the best course of prevention including their regular heartworm prevention and other types of products to treat more severe intestinal parasite infections in some patients.
Congratulations to these special furry family members, Maui and Lucy, on being our featured pets of the month!!
---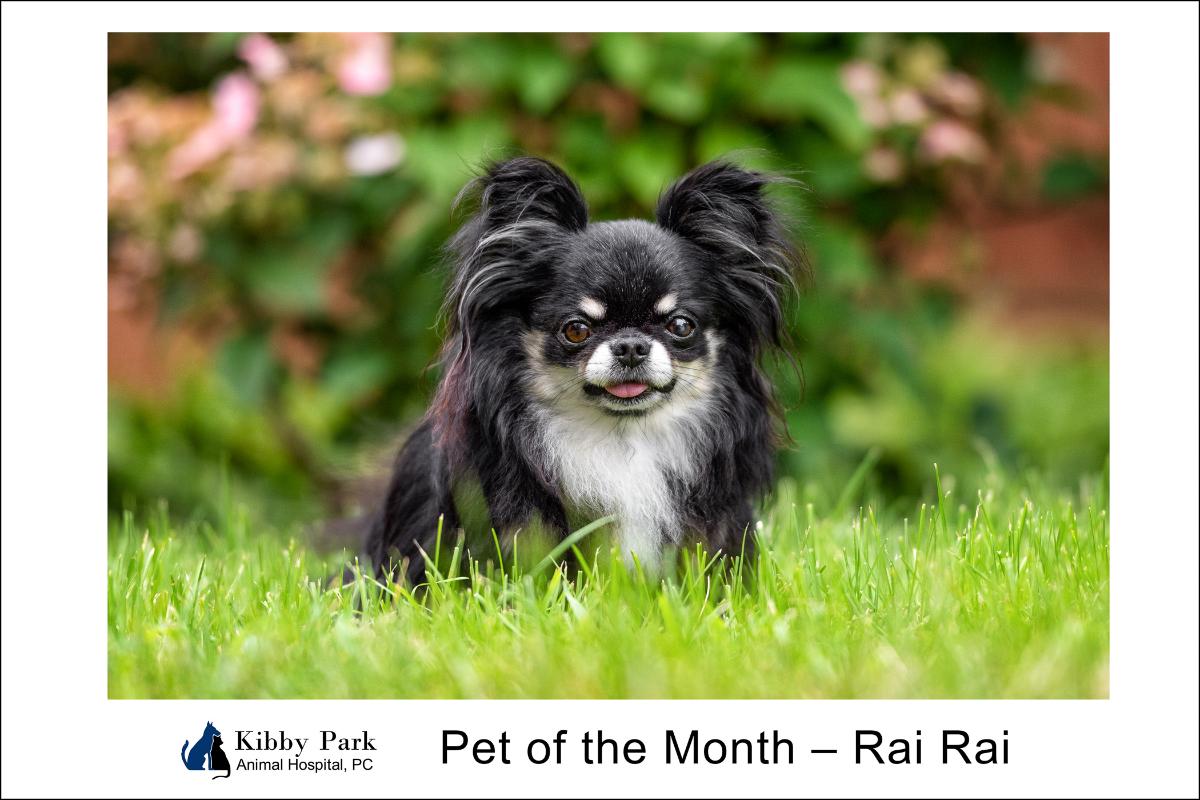 December 2021 – Raiden "Rai Rai" Jones
Rai Rai was adopted by Suzanne in June of 2020. This was a process that Suzanne had pondered for months, and she finally decided that she was ready for a canine companion. He and Suzanne immediately bonded and he became a permanent resident in her household.
Rai Rai is a Chihuahua; he has very few health issues but weight gain is a problem that can plague this breed. Suzanne is very careful about Rai Rai's weight, and even though she has taken him to training classes and has allowed treats, she balances the amount with adjusting his meals on training days. Rai Rai lives his very best life with Suzanne, and he is her constant companion. We are always excited to see Rai Rai and Suzanne when they come to visit us – Suzanne has done an amazing job integrating him into her household and he is a lucky boy!
When acquiring a dog or cat, it is a great idea to plan out your strategy. Will you adopt a pet from a shelter or rescue, or will you purchase a puppy/kitten from a breeder? We are here to help you to determine the best options for you, including a decision on particular breeds based on their characteristics meshing with your lifestyle. A Siberian Husky for someone who works long days and does not want to walk/exercise a dog = not a good match. However, there are other breeds/varieties of dogs which may be perfect for this type of pet owner. In addition, we have recommendations for local dog walkers/pet sitters for you. Please let us know if you have questions and are considering adding a new canine or feline to your family.
Congratulations, Rai Rai, on being our December KPAH Pet of the Month, and for finding a special person to care for you beyond measure!
---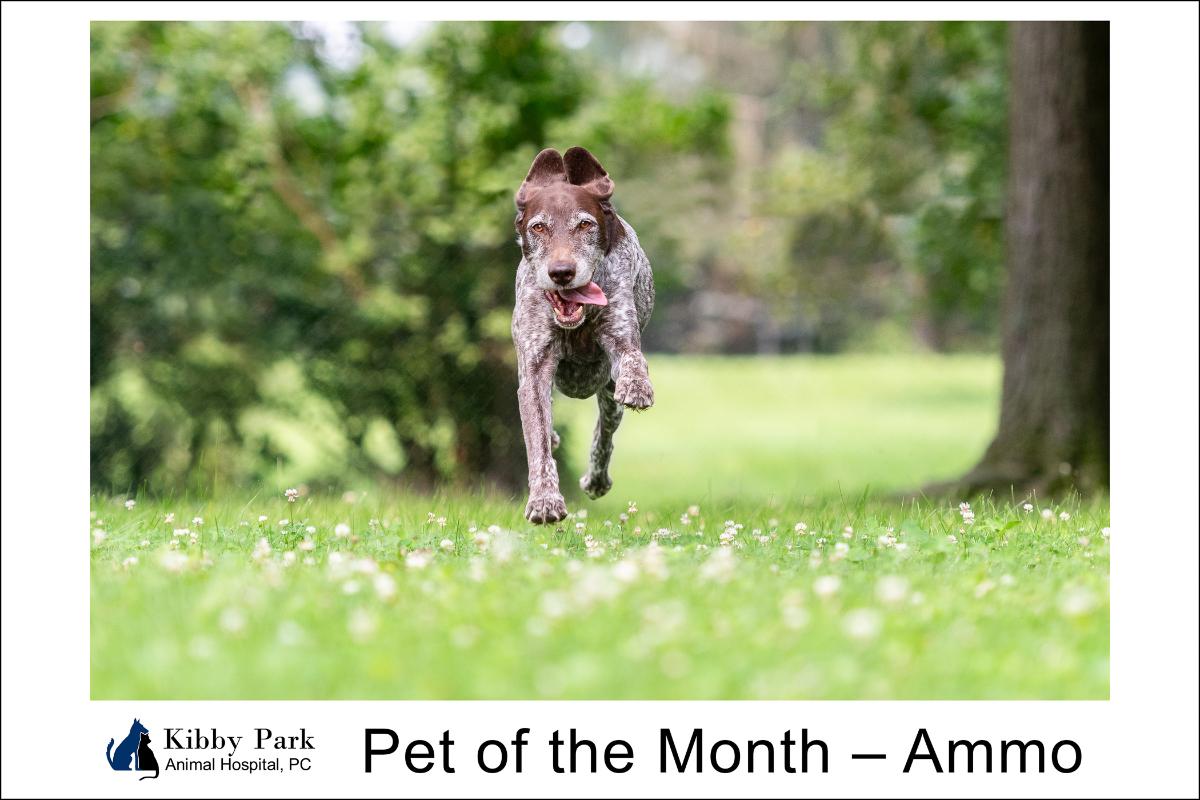 November 2021 – Ammo Papiersky
Ammo is a nine year old German Shorthaired Pointer.  He was adopted by Ryan in 2017.  Ammo was trained as a hunting dog previously and his busy personality and temperament are definitely perfect for hunting and exploring.
According to the German Shorthaired Pointer breed characteristics guide, they are notorious for being high-energy and very trainable.  They also get a 9 out of 10 for bonding level to their families.  What does this mean?  It means that being left alone for lengths of time can create a host of issues, including separation anxiety and destructive behaviors.
Dog breeds that were developed for hunting are generally best for high energy families.  Daily walking, doing "nosework" in which dogs are trained to harness their innate sense of smell to locate the source of a scent, and keeping the environment stable and entertaining to a dog who can literally run miles a day – all of these things are great ideas for dogs like Ammo.
Please let us know if you need referrals for trainers for basic dog manners, agility, or nosework.  We are happy to assist!  Your dog will thank you for the fun classes and your bond with your dog will be stronger than ever. 
---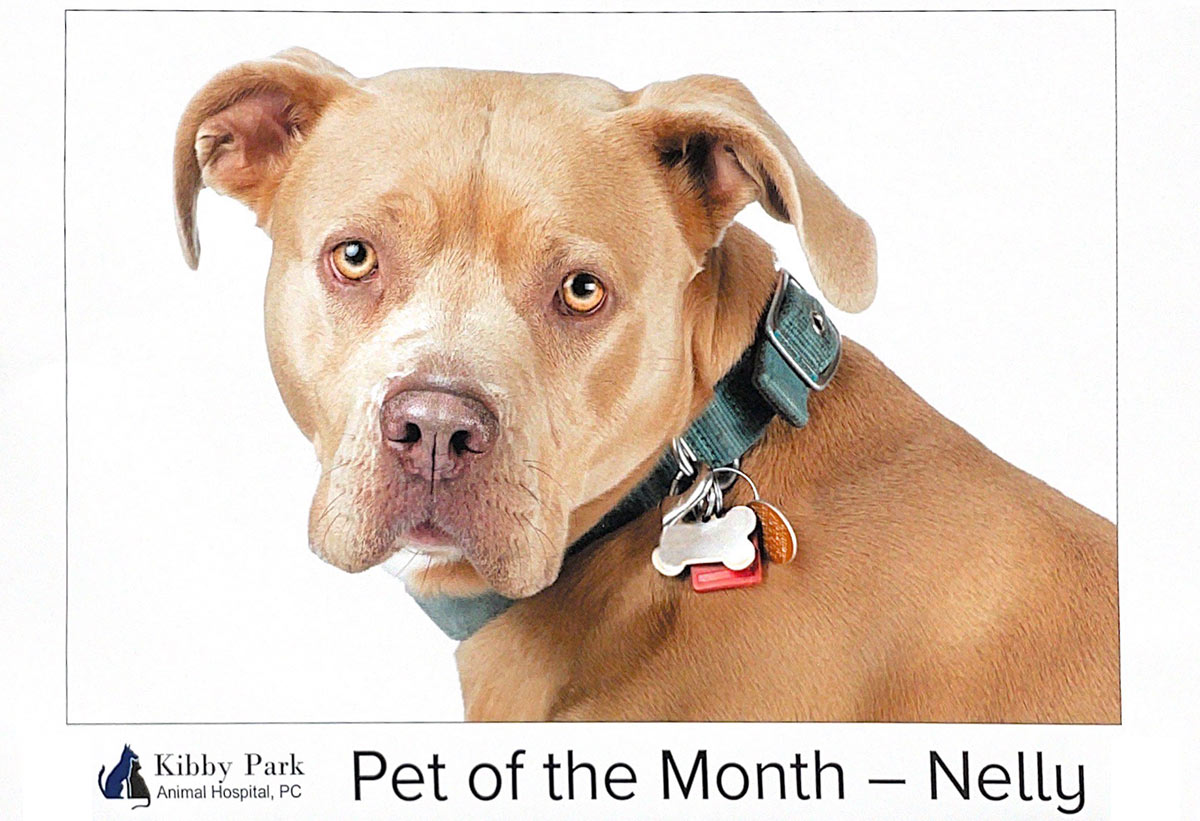 October 2021 – Nelly Davies
Nelly was adopted in 2017 from the Jackson County Animal Shelter by the Davies family. She was about four months of age and her medical/personal history was not known by the shelter. Rick and Deb and their daughter Betsy decided to take a chance and integrate her into their household with other resident dogs, cats, and a macaw (who is quite a character).
Slow introduction, respect for the boundaries of other resident pets, and lots of love allowed Nelly to be successfully introduced to the family. She eased into the household and has become a cherished family member. She was a shy and sweet puppy and the family recognized that she needed to be encouraged to grow and develop on her own terms, without being flooded with new people and situations which may lead to increased anxiety.
Shelter pets are gifts that keep on giving in ideal cases. They may come to us with underlying medical issues, separation anxiety, and a need for more emotional and financial investment initially. Most are experiencing some type of anxiety and this generally involves creating a secure and safe environment – crate training should continue for dogs with the crate in a restful and quiet area. Cats should have their own room initially with easy access to food, water, and litter boxes; a gradual introduction to the household will set kitties up for success.
We are here to help. Please come to us with any questions or concerns prior to adopting a shelter or rescue pet. Feel free to contact us when your new furry family member joins your household for tips on introduction or for assistance with any behavior concerns such as anxiety or resource guarding. If we cannot address within our walls, we will refer you to Great Lakes Veterinary Behavior Consultants and Dr. Krause will assist – she operates out of our training building and is an expert in preserving the human-animal bond. We also have a host of other resources for you – we are here to help you develop the best relationship with your new rescue family member!
---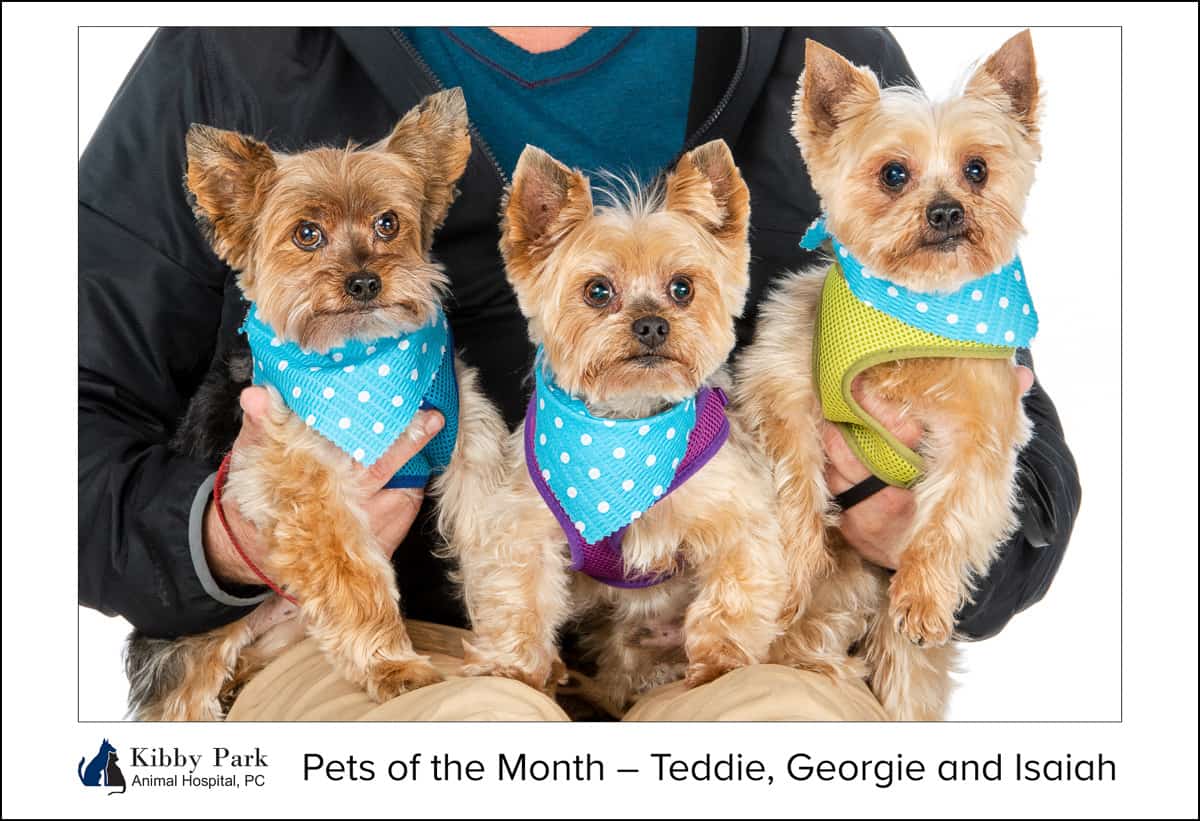 March 2020 – Georgie, Isaiah, and Teddie Ladd
A trio of Yorkshire Terriers have been chosen as our Pets of the Month for March, 2020!
From left to right are Georgie, Isaiah, and Teddie Ladd; Teddie is the elder member of the trio and is the "team leader" of vigilance in the household. Gregg and Dennis are accustomed to being at the beck and call of the terriers. Regular walks and lots of cuddling and lap time keep all of the dogs happy, although Teddie is known to beg for treats on occasion.
Multi-dog households are wonderful, but can present some unique challenges. One dog has a bond with the human family members. A second dog will develop a bond with the resident dog but will require as much or more attention from the family as the first dog….and so on as additional dogs join the household. Another common issue is potty training puppies when there are adult dogs in the house. Puppies tend to follow the adult dog(s) around in the yard but remain unfocused when it comes to learning how to use the potty area outside. Finally, dog-dog relationships can be complicated. Treats, food, toys, humans, space…all are considered high resources that may motivate interdog aggression and other complications concerning canine behavior in the household.
On the positive side – if dogs are treated as individuals, each requiring attention, exercise, and training – the success stories far outnumber the stories where multidog households do not work out for families. Teddie, Isaiah, and Georgie have always had ample household space and attention on an individual basis. They eat out of their own dishes in designated areas. Exercise is important and walking the dogs separately is often preferred due to terriers being the "neighborhood watch" and vocalizing more when out together. Individual activities allow Gregg and Dennis to keep each dog focused on them as they walk and encounter other people and pets.
Congratulations to Teddie, Isaiah, and Georgie on being chosen as our March 2020 Pets of the Month!!!!