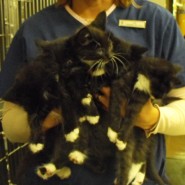 Jackson County Animal Shelter Faces Overcrowding
The Jackson County Animal Shelter Faces Overcrowding
Septempber 17, 2012
By Deanna Falzone
The Jackson County Animal Shelter was so full last week, they couldn't take any owner turn-ins of dogs or cats.
Right now, the shelter has 72 cats and they're at full capacity, no longer accepting owner turn ins, just strays. The majority at the shelter now are just that.
"When you don't stop that population increase at your home, it does have a huge impact on the community and I think all the vets in Jackson County have concerns. We all hear it from our clients and we all try really hard to encourage people to spay and neuter," said Vetenerian Melissa Ownings. "It's heartbreaking to walk out of your house and know that some of them can't be handeled. They're feral, they're wild and it's something that can be very devise in neighborhoods."
A study shows every year of the 10,000 kittens born in Jackson County, only around 7,000 will get lucky enough to find a home.
"That leaves about 3,100 cats that we have no homes for. There are not enough people to take cats," said Dr. Ownings.
Dr. Owings says last year, 60 percent of cats were euthanized at the shelter due to overcrowding. She says it's about personal responsibility, awarness and reaching out to the community.
The animal shelter cut their prices in half in the hopes to find the cats a home. Usually it costs $85 to adopt one, but they are now charging $40. The cats come spade, neutered and vaccinated.