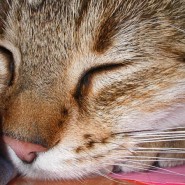 Controlling Jackson's Cat Population | Posted in the Jackson Citizen Patriot
Controlling Cat, Kitten Population 'Crisis' in Jackson County is Group's Aim
July 05, 2012
By Lisa Satayut
JACKSON, MI — Last year over 60 percent of cats and kittens housed at the Jackson County Animal Shelter were euthanized due to overcrowding.
That's 1,550 cats and kittens.
In an effort to control the overwhelming and ever-growing cat population within the county, a group of veterinary professionals and community members have formed The Jackson Cat Project aimed at population control.
The group set a goal to spay and neuter 100 cats at no charge to residents living in the 49201 and 49203 ZIP codes at an event July 14. The surgeries will take place at the Cascades Humane Society and the Jackson County Animal Shelter, and group members are hoping to reduce the cat reproductive capacity in Jackson County by more than 1,000 cats over the next year.
The ZIP code areas were chosen so the group can create a demographic database of information that they can then use when applying for grants in the future.
Melissa Owings, Kibby Park Animal Hospital veterinarian, is one of the founding members of the Jackson Cat Project.
"Based on statistical analysis, we estimate that nearly 3,000 surplus kittens are born in our community each year, exceeding the demand for cats and creating a population crisis," Owings said.
She said any time a cat or kitten is brought into the Jackson County Animal Shelter there's a good chance it won't be adopted.
"Cats and kittens taken to the animal shelter have a 60 percent chance of not getting out of there," Owings said.
Cathy Anderson, Jackson County Animal Shelter veterinarian, said the county animal shelter is required to take every cat or kitten dropped off. This is referred to as "open admission."
She said last year the shelter took in 2,514 cats.
The "save rate," meaning the cat or kitten was adopted or reclaimed by its owner, was about 40 percent.
She said some county animal shelters in the state have a save rate of less than 20 percent.
"It can be pretty startling, the numbers," she said.
Owings is also a member of the group.
Debra Carmody from the Cascades Humane Society said adoptions have slowed down recently.
The Cascades Humane Society does not have open admission.
"When we are full we are full. The shelter has to take them, but we don't," Carmody said.
She said they can house anywhere between 50 and 70 cats or kittens at one time and that no adoptable animal is euthanized.
"It's just overwhelming, the number of cats in the county," Carmody said.